---
Dominique Dalcan
---
Sons
---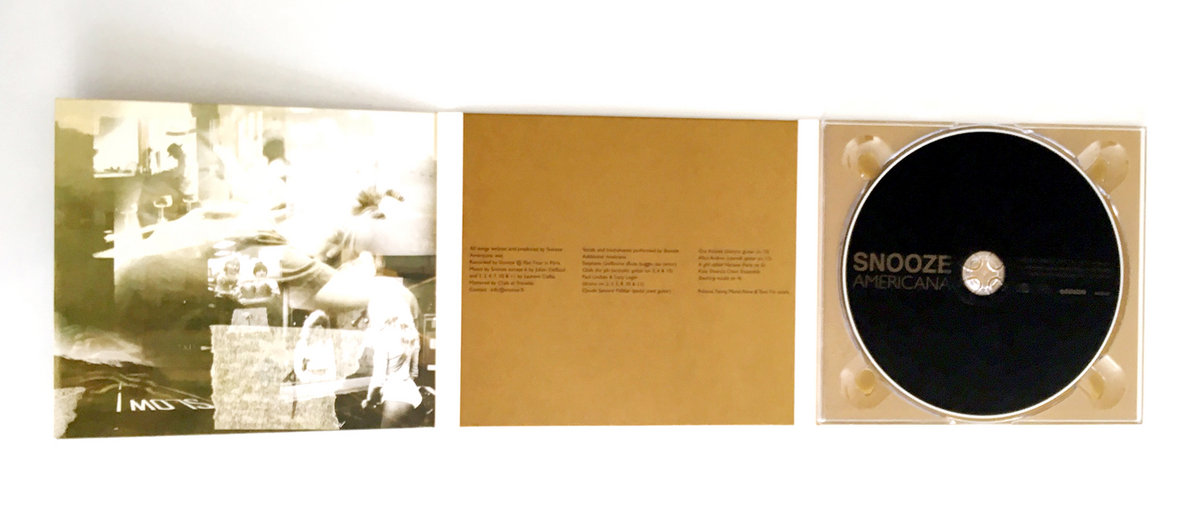 ---
SNOOZE : Americana
---
CD Ostinato - 2005

---
Projet electronique de Dominique Dalcan

Après deux ans d'écriture et une tournée européenne en 2002, AMERICANA, le nouvel album de Snooze sort le 17 janvier 2005. Snooze chante sur tous les titres d'une voix mutante et incarnée. (Dominique change naturellement ou électroniquement sa tessiture vocale au gré des titres). Ses paroles traitent du quotidien et des gens en quête de "sauvetage" émotionnel.
La pedal steel guitar navigue du premier au dernier morceau de l'album.

Cette collection de chansons remplie d'humanité, s'aventure vers un folk moderne, où la country, le jazz oblique et les sons de synthèse se mélangent avec élégance. Americana révèle des titres pop à la lecture instantanée comme «Welcome To My Seventeen» où «Treat Me Like A Man» ; des morceaux instrumentaux plus appuyés comme «Black Flowers» où «The Wave» ; des traitements vocaux saturés comme «Now We're Two» où encore «Home Is Where It Hurts».

Mais pourquoi parler aujourd'hui de l'Amérique ?
Est-ce une prise de position dans les élections US, un hommage à l'auteur Don De Lillo, une fascination pour les films d'Howard Hawks où les bandes dessinées Marvel's comics ? Rien de tout ça! « C'est plutôt l'idée d'en finir avec toutes les images qu'on nous a mis dans le crâne depuis des lustres ». Extrait d'une récente interview donnée par Snooze à une radio universitaire du New Jersey.

///

After two years of writing and a European tour in 2002, AMERICANA, Snooze's new album, was released on January 17th 2005. Snooze sings on all the tracks with a mutant and embodied voice. (Dominique changes her vocal range naturally or electronically depending on the track). Her lyrics deal with everyday life and people in search of emotional "rescue".

This collection of songs, filled with humanity, ventures into modern folk, where country, oblique jazz and synthesized sounds are elegantly blended. Americana reveals instantly readable pop tracks like "Welcome To My Seventeen" and "Treat Me Like A Man"; stronger instrumental tracks like "Black Flowers" and "The Wave"; and saturated vocal treatments like "Now We're Two" and "Home Is Where It Hurts".

But why talk about America today?
Is it a stance in the elections, a tribute to the author Don De Lillo, a fascination for Howard Hawks' films or Marvel's comics? None of the above! "It's more the idea of getting rid of all the images that have been put in our heads for ages. From an interview Snooze gave to a New Jersey college radio station.

crédits
All songs written by Dominique Dalcan.
Recorded performed and produced by dominique dalcan aka Snooze
Recorded and produced by Snooze at Flat Four Studio.
Track #6 mixed by Julien Delfaud
Tracks #2,3,4,7, 10 & 11mixed by Laurent Collat
Track #1, 5, 8 & 9 mixed by snooze
Mastered by Chab @ Translab Mastering