---
Dominique Dalcan
---
Arts visuels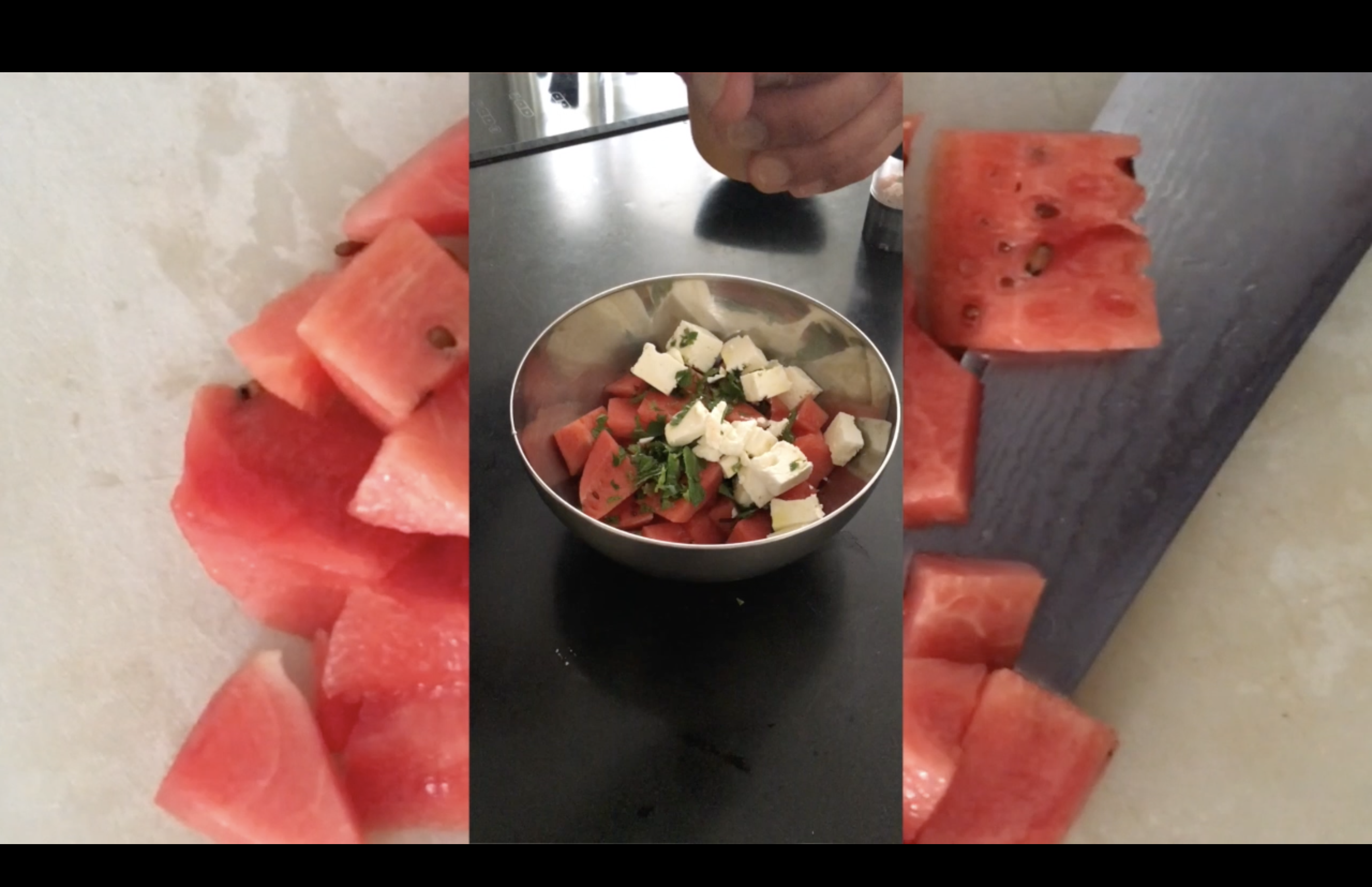 ---
In The Kitchen
---
2018
Video, HD, 5 min

Comment établir un lien entre la cuisine, la musique et la littérature ?

Qu'est-ce qui relie la manière de traduire un texte, de se pencher sur des arrangements musicaux et de cuisiner un plat familier en pays étranger loin de ses ustensiles et ingrédients ?

Une conférence-performance « la cuisine du frigo » explore cette thématique. Les deux gourmets que sont Ryoko Sekiguchi et Dominique Dalcan proposent une mise en pratique in situ : Ryoko relève le défi de cuisiner un plat avec des contraintes précises, Dominique filme et compose comme il cuisine. À l'instinct et sans suivre de règles. Il propose aujourd'hui de s'interroger sur les passerelles entre ses pratiques sonores et gustatives, revenant à l'une de ses activités quotidiennes : la cuisine composée !

///

How can we connect cooking, music and literature?
What links the way of translating a text, of working on musical arrangements and of cooking a familiar dish in a foreign country far from one's own? What is the connection between translating a text, working on musical arrangements and cooking a familiar dish in a foreign country far from one's own utensils and ingredients?
A conference-performance "cooking in the fridge" explores this theme. The two gourmets, Ryoko Sekiguchi and Dominique Dalcan, propose a practical application in situ: Ryoko takes up the challenge of cooking a dish with precise constraints, Dominique films and composes as he cooks. On instinct and without following any rules. Today, he proposes to question the links between his sound and taste practices, returning to one of his daily activities: cooking with food!

Ryoko Sekiguchi :

Auteure et traductrice japonaise vivant à Paris, Ryoko Sekiguchi, sous le principe "d'écriture double", traverse plusieurs disciplines et territoires; elle écrit en français et en japonais, traduit dans les deux sens, travaillant dans les espaces de la littérature et de la gastronomie, des projets menés en collaboration.



INSTALLATIONS & PHOTOS BY DOMINIQUE DALCAN